Appointment Scheduling Software & CRM for Small Business
Easy Appointment scheduler
Easily create and share various types of appointments. Set appointment to send auto messages and reminders. Share a link with your availability so clients can easily schedule appointments with you.
What were the consequences when you last forgot an appointment?
Book your meetings easily with RunSensible online appointment scheduling software.
Away with the back-and-forth!
With RunSensible calendar tool, set up your calendar, email the meeting invitation email, and see how easy it is to schedule and manage appointments: no more time-consuming calls, emails, or text messages.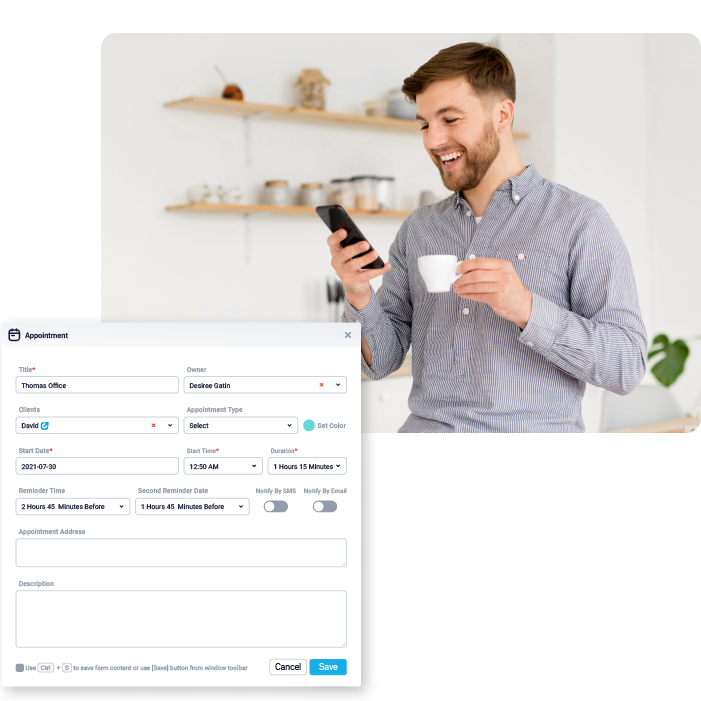 A new way to call someone to a meeting!
Book appointments and schedule meetings efficiently. Place a form on your website for clients to book appointments online, or book them yourself with RunSensible scheduling software. No more superfluous communication when booking appointments, schedule in just a few clicks. Turn time into money and grow your business.
Get more done with features
Know your clients!
All client information including notes and documents stored in one place.

Booking Page
Make your appointment form and add it to your website.
Configure and preview the form to ensure it has the right look and feel.
Two-way Calendar Sync
Sync calendar with Google Workspace / G Suite or Office 365.
Notifications and appointment reminders
Seamless Communication and automated
reminder!
Stay in touch with your clients;
once a time is booked, a confirmation
email will be automatically sent, and your Google Calendar will be
updated accordingly.