Legal Calendaring Software
Our Legal Calendar Goes Far Beyond Just Scheduling Appointments
Don't let your schedule slip away, even when you're on the move. Tailored specifically for legal professionals, RunSenible's legal calendar app ensures seamless coordination with your clients, cases, and workload. Keep-case progress current by updating milestones, ensure client appointments are confirmed by text, and establish deadlines that follow court rules using automation.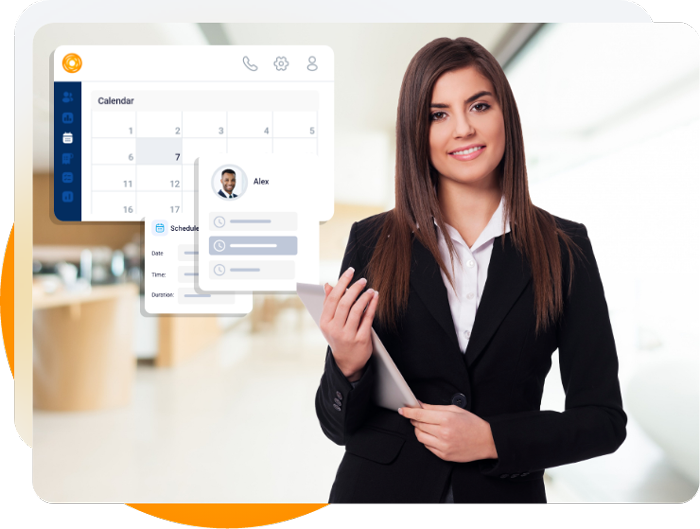 Book your meetings easily with RunSensible online appointment scheduling software, and never miss another appointment.
Your small firm can rest easy knowing our services have you covered
Streamline your legal agenda by organizing cases and have a quick overview of the most crucial updates and due dates.
A reminder texts to reduce missed appointments
Issue text-based calendar invitations and set up automatic reminders to clients and receive verification of their presence.
Easily monitor your firm's appointments and commitments
Your firm will provide its users with the capability to produce, distribute, and observe calendars for meetings that impact the entire firm, intake appointments, and case-specific dates.
Never miss a deadline
Stay on top of deadlines set by Court Rules
Make sure you never miss a deadline or court date again with RunSensible's Calendar. Set rules based on hundreds of court deadlines and have events automatically created, ensuring you stay on top of each case's milestones and filing requirements.
A new way to call someone to a meeting!
Make appointment scheduling quick and easy by incorporating a widget on your website, your clients will thank you later. No more back-and-forth communication trying to find a time that works for everyone.
Team up in a shared legal calendar
Keep your team, customers, and co-counsels informed of crucial dates through regular email notifications and online portal updates.
Know your clients!
ll client information, including notes and documents stored in one place.
Booking Page
Easily create your very own appointment form and add it to your website. Customize it exactly to your tastes.
Two-way Calendar Sync
Easily create your very own appointment form and add it to your website. Customize it exactly to your tastes.
Notifications and appointment reminders
Seamless Communication and automated reminders! Stay in touch with your clients; Your Google Calendar will be updated and a confirmation email will be sent automatically when a meeting is scheduled.